Calgary Web Design
Why Web Design Matters?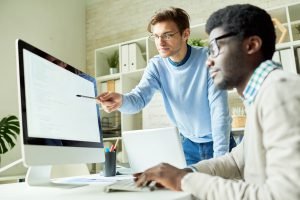 We are Calgary Web Design Agency. A Website Design is a brand touchpoint for your business. It helps to effectively present products and services and convince the end customer. As we are a leading Web Design Calgary agency, we focused on SEO-friendly websites, lead generation, device responsive sites and custom web applications.
Features:
Professional & Certified website designer and web developers
Certified SEO specialist
Mobile-Friendly device responsive website
Deliver a well-optimized & fast-loading website
Local website builders
Local Calgary Website agency
Calgary Web Design Services
Why Choose Global iTech Systems For Your Web Design Needs?
We are professional Calgary web design services and search engine optimization provider in city of Calgary, Airdrie, Cochrane and surrounding cities. At Global iTech Systems, we create websites that exceed expectations. Moreover, our Calgary web designer and web developers wireframe and build an efficient web products that is not only grow your traffic; but also increase your brand awareness and brand reputation. Therefore, we will certainly make every effort to go one step ahead. Most importantly, we create professional websites that will surely attract tons of potential customers. We will focus on your users' needs that grow brands and drives the audience to action. Therefore, our web design services will surely enhance your business' presence on the Internet. In addition, we provide customized web design services that could work on your budget and tried to be the best web design companies in Calgary!
In addition Calgary web design services, our company has expertise in other Digital Marketing areas like SEO, Google advertising & email marketing. Likewise, w can help you especially in Search Engine Optimization (SEO), Social Media Marketing, Email Marketing and so on.
Our Web Design Process:
To begin with, we will listen to your ideas and requirements. In the same way, we will dive deep into the data that you have. We will also check the performance of any existing site that you have.
After that, we will convert your ideas into a functional and effective web tool for your business. That being said, we will choose the tool and platform that will best suit your business needs.
Lastly, we will optimize your Web project. Search Engine Optimization or SEO is a crucial part of any website. For that reason, we would be adding keywords to build an SEO-friendly website.
Global iTech Systems, is a Calgary web design company, specialized in developing websites, web applications, eCommerce website and mobile apps that are professional, affordable with UX/UI design concept using latest web technologies. With over 15 years of experience and expertise in website designing, developing and implementing, we ensure lead generating web projects, marketing website and website ranking in Google search engine pages.
We are the professional Calgary Web Design company that creates elegant, useful and unique websites, web applications with focused on UI UX technology, more creativity by using advanced web tools.
As a local Calgary web design company, we focused on website design, web application development, mobile app and SEO services. Our website are functional, cost effective, informative and CMS based with mobile friendly, device responsive and leads generating techniques with best SEO results.
---
As a leading Calgary web design agency, we offers probably the best and complete web design and development solution for application development, mobile app development and digital marketing. We have a talented team of professional web designers, web developers and web programmers in Calgary, Alberta with over 15 years of professional experience in web designing, mobile app, CMS development and marketing field who are highly committed to help small business owner to device responsive website, online marketing and generating sales. We listen your ideas, guide you on web technologies and help to executing your goal. We provide website management/maintenance, including domain registration, hosting, web design, web development, branding, proof-reading and marketing.
KEYWORDS: Calgary web design , best website design, web development company Calgary, web design services, website developers, web development agency, website design services Calgary, best web design, website development company, Calgary website design, corporate web design, website company, website developer near me, web design firm, business website design, best web design company.